The Best wedding Bus Rental
Wedding Transportation Services
Quite a large number of people will purpose to attend your wedding unless you are a great fan of private weddings. Even so, transportation is a fundamental aspect of every wedding. Guests, the bride, and bridegroom deserve to be available at specific destinations on time. Hence there is a need for efficient modes of transport. Wedding Bus rentals can offer this transportation service in a more efficient fashion. A wedding Bus Rental has an increased number of seats for shipping people to the wedding destination. For that reason, most wedding planners are always on the lookout for the best firm, which can offer this service. Almond Charter Bus Colorado Springs, is one firm you can entrust your wedding transportation activities. We are well-braced up to offer you the best and roadworthy Wedding Bus Rentals.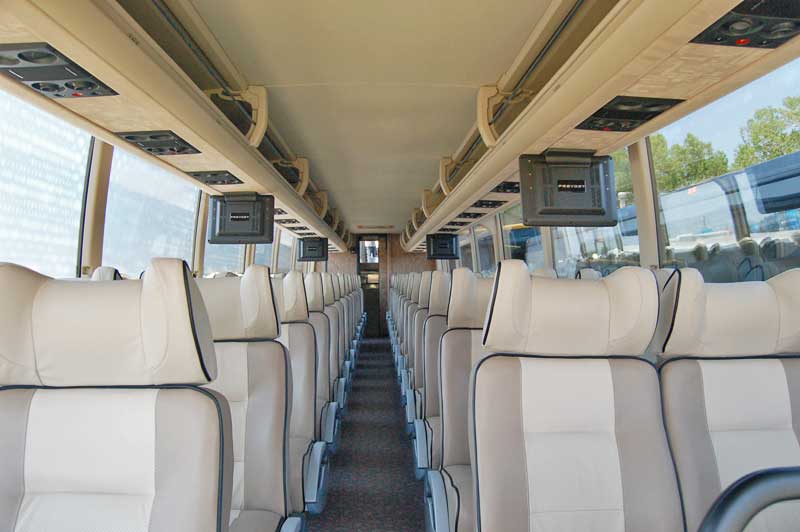 Why Hire Wedding Bus Rentals?
There are a number of reasons why our wedding transportation services are one of the best in Colorado Springs. This is because of;
The skilled team of experts
Our drivers, mechanics and logistic specialists boast of a wide range of experience. They are well-qualified for the transportation tasks at hand. Our drivers have been subjected to suitable training and have valid driving licenses. Mechanics are always servicing our wedding buses to ensure they forever stay in a roadworthy state. The transport and logistic personnel efficiently plan wedding trips to avoid any alteration in the wedding program. We make sure our services are like none other!
Affordable costs
Do not expect transportation costs to miss out on your wedding budget. Fueling of wedding buses and other related vehicles is something you will never run away from. We understand the relevance of these cost to any wedding. For that reason, our services come at a reasonable if not affordable costs. Feel free to ask for our quotations for proper planning.
A roadworthy fleet of wedding bus rentals
Your safety is a great priority for us. We try as much as possible to ensure no accidents occur while on the wedding procession. Our buses are serviced regularly by mechanics of a rare feat in this field. Necessary spare parts are added to get rid of older ones, thus keeping the buses in the right shape and great functionality. Passengers will enjoy a peaceful ride free from stoppages due to the wedding bus breaking down.
Customer-led
To us, customers are our main agenda. They are our greatest assets and a key contributor to our sustainability. We are ever working so hard to offer them quality and affordable services. We take into consideration their financial status, budgets and customization need to offer them suitable services.
Help and Support
In case of any need for clarification, our customer care services team is ever working around the clock to assist. Their assistance is efficient and comes in time to facilitate proper planning. Our employees are full of courtesy and polite in their response to every customer. Their will is to serve you in the best way possible.
Conclusion
As a resident of Colorado Springs yearning to wed soon, transportation should not be a great issue. You can liaise with us to gain access to our roadworthy and affordable wedding bus rentals. These buses are accompanied by skilled drivers focused on preserving the safety of every passenger.