Sports Team Bus Rental
Why You Should Choose Us
If you are looking for sports team bus rental services, you have come to the right place. We pride ourselves in providing transport for sports teams regardless of the event that you have lined up. Considering that your performance depends on how you arrive at the event, we ensure that you get a bus that is best suited for your team. We are Almond Charter Bus Colorado Springs, and we have no match in the entire Colorado State when it comes to transporting sports teams. There is a reason our customers keep coming to use whenever they have an upcoming event; we have designed our bus chartering services based on what they need. Here is what you should know about our company.[/one_half]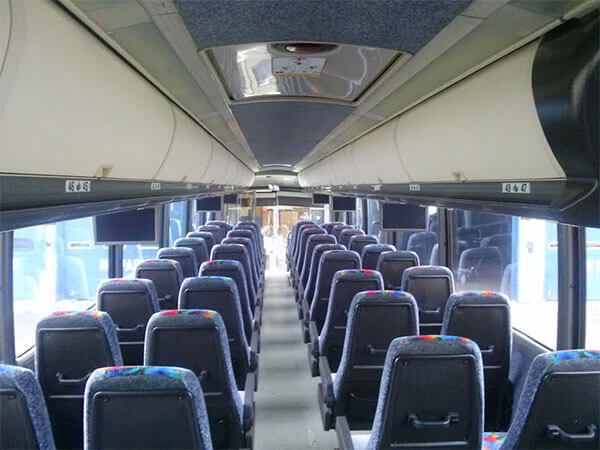 We have a wide variety of team buses
We understand that in this region, there are many types of sporting events that teams attend. It could be a school competition, a local league, a charity sports day, or any other type. Similarly, there is a difference in the kinds of teams that participate in these events. Therefore, it follows that the teams will have different needs, and will be looking for different types of buses. This is the reason we allow you to choose from a wide variety of selections based on what your team wants.
We care about your comfort
In Colorado Springs, Comfort is a major factor when traveling to an important event. You want your team to be in the best shape when they arrive, and this depends on the conditions that they go through during the trip. Because of this, we have modified our buses to ensure that everyone feels comfortable. Staring from the seats, spacing, windows, and everything else, there is no doubt that you will be travelling in style. We have the best corporate bus rentals available. To make it even better, our buses are fitted with the latest music and other entertainment materials to keep your squad lively throughout the journey.
Our prices are competitive
It is an age-held tradition that quality services come at a higher pay, but we believe is does not have to be that way. Although we give you the best Colorado Springs bus rentals and services, we still believe that you should pay a competitive price. We take into account several things when calculating the cost so that we come up with a fair quote. They include distance, duration of the trip, and various other services. Our main objective is to ensure that you get value for money, and get the satisfaction that every sports team needs.
In a nutshell, Almond Charter Bus Colorado Springs is your one-stop place for sports team bus rental services. What makes it even better is the fact that we have an amazing customer support system. We respond to questions fast, and will offer help in case of any hitches during the trip. We have served a lot of customers from this state, and we continue getting inquiries from prospective ones. If you have been searching for a sports team for hire without success, you now know what to do.